Fully-Managed Pagers
Stay Connected, Island-Wide
No Lost Signals or Dropped Calls
Pricing Info and Catalogs
Paging is simply the single most reliable way of keeping in touch with your employees. There is no down time. There are no lost signals or dropped calls. If being contactable is crucial to your business, then paging is the best answer. At Telecom we have provided paging services to Bermuda for over 20 years, and continue to boast the best technology, the highest level of expertise and the most satisfied paging customers.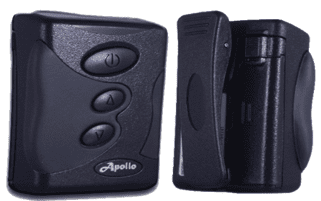 Features:
Innerglow LCD Display
40 Alphanumeric Canned Messages
26 Memory Slots
4 Beep Alerts, 10 Melody Alerts,
Vibration and Sleep Mode
3 Daily Alarm Sets
Month, Date, Year, Time Display
8 Message Locks
Reminder Alert
Back Light Display
Duplicate Message Detection
Message Full Indicator
Message Time Stamp
Selective Message Lock / Delete
Lithium Backup Battery
Spring Loaded Holster
Password Protection
Up to 4 Capcodes Capability
Sequential Lockout Option
Side Rubber GripTop Read Display
Apollo AL924
4 Line Zoom Feature Alphanumeric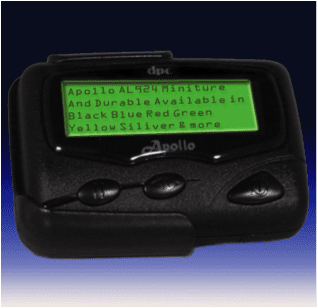 Features:
16 Memory Slots Up to 3150 (pocsag) 32000 (Flex) Character memory
Selective PC or Hand Programmable
4150 (pocsag) 27000 (Flex) Character Per Mail Drop
Duplicate Message Detection
50 Memory Slots
Auto Scroll w/ Speed Control
Unread Message Display
User Selectable 12 / 24 Hour Clock
Selective Message Lock / Delete
Smart Chip Built-in
Zoom feature
4 Level Battery Capacity Indicator
Extra Long Battery life
10 (pocsag) 20 Flex Personal Memory Slots
10 (pocsag) 16 Flex) Mail Drop Capacity
4 Alert Modes – Beep, Vibrate, Melody, Sleep
4 Beep Alerts, 10 Melody Alerts, Vibration-Sleep Mode
Battery Backup
1Daily Alarm Sets
Month, Date, Year, Time Display
Back Light Display4 Line Alphanumeric Pager
Motorola Minitor V Voice Pager 
The Motorola MINITOR V™ two-tone voice pager is ideal for fire departments as well as businesses and other organizations that must react quickly in times of emergency. Its customizable options and dependable reception make it ideal in any rapid- response situation.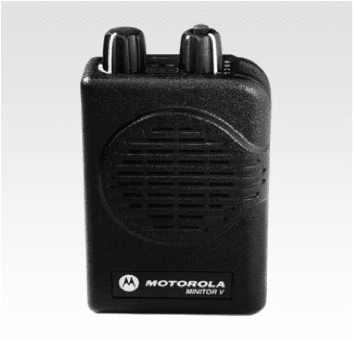 Features:
Wide and narrow-band programmable channel spacing –
Available on VHF and UHF models only.
Expanded stored voice – Records up to 8 minutes of voice message for playback.
Silent scan (Dual-frequency model) – Scans both channels silently, alerts on either channel.
Priority scan (Dual-frequency model) – Plays all traffic on Channel 2, alerts on Channel 1.
12 alert tones per channel – Supports 8 two-tone pairs and 4 individual long-tone alerts.
Programmable Alerts – Supports 10 different musical alerts.
Function mode announcement (Stored Voice option) –
Announces programmed operating mode.
Certified for hazardous locations – Sealed and sturdy for rugged conditions.
*(Must be ordered in from Motorola, as only purchased as a Special Order)
Why East End Telecom?
East End Telecom has been serving the Bermuda community and businesses for more than three decades
Our focus is on safety and keeping you and your employees connected at all times
We have invested millions in the island's most reliable radio infrastructure
Our long-term and short-term rental programs are fully-managed by us so you never have to worry
Predictable monthly fees so there are no surprises
For More Information on Fleet Leasing and Radio Network Access Rates
For More Information on our Fleet Leasing solutions and the pending 2023 radio network access rate increase, contact our sales team via email or phone, or simply fill out the form to the right indicating which product or service you are interested in.
How to Reach Us
Telephone: 293-0550
Fax: 293-8958
Email: sales@telecom.bm
Office Address
71 North Shore Road
Hamilton Parish
CR 01, BERMUDA
Mailing Address
P.O. Box CR 233
Crawl, Hamilton Parish
CR BX, BERMUDA