SCADA Systems
Monitor All Elements of Your Environment
Get Your Data from Anywhere, Island-Wide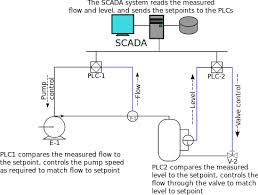 Supervisory Control And Data Acquisition, a computer system for gathering and analyzing real time data. SCADA systems are used to monitor and control a plant or equipment in industries such as telecommunications, water and waste control, energy, oil and gas refining and transportation.
A SCADA system gathers information, such as where a leak on a pipeline has occurred, transfers the information back to a central site, alerting the home station that the leak has occurred, carrying out necessary analysis and control, such as determining if the leak is critical, and displaying the information in a logical and organized fashion. SCADA systems can be relatively simple, such as one that monitors environmental conditions of a small office building, or incredibly complex, such as a system that monitors all the activity in a nuclear power plant or the activity of a municipal water system.
SCADA systems were first used in the 1960s.
Why East End Telecom?
East End Telecom has been serving the Bermuda community and businesses for more than three decades
Our focus is on safety and keeping you and your employees connected at all times
We have invested millions in the island's most reliable radio infrastructure
Our long-term and short-term rental programs are fully-managed by us so you never have to worry
Predictable monthly fees so there are no surprises
For More Information on Fleet Leasing and Radio Network Access Rates
For More Information on our Fleet Leasing solutions and the pending 2023 radio network access rate increase, contact our sales team via email or phone, or simply fill out the form to the right indicating which product or service you are interested in.
How to Reach Us
Telephone: 293-0550
Fax: 293-8958
Email: sales@telecom.bm
Office Address
71 North Shore Road
Hamilton Parish
CR 01, BERMUDA
Mailing Address
P.O. Box CR 233
Crawl, Hamilton Parish
CR BX, BERMUDA